E BIKE ZADAR is a fully certified Bosch eBike Service Center and Bosch Premium Partner. This means we can support you with all your Bosch eBike needs for any make or model of bike whether you are looking for Software Updates, Diagnostics Report, Spare Parts, Warranty Claim or simply a Service.
Software Update – 30€
As a Bosch service center we have the software to update all Bosch eBike Systems from 2011 onwards. A great feature of the Bosch system is that it can be updated giving you access to the latest features, upgrades, and big fixes.
Diagnostics Report – 30€
If your Bosch eBike has developed a fault, or is producing error codes, we can access the firmware and find out exactly where the fault lies saving valuable time to get you back on the road quickly. This can also be handy for anyone buying or selling their Bosch powered eBike. We can use this service to run off a diagnostics report and provide a printout of the eBike's history. This includes several different parameters such as Usage, Service History, Date of Manufacture, Frame & Electrical Serial Numbers, Total Battery Charge Cycles, Current Capacity, Maximum Battery Temperature, Previous Faults etc etc. This is a really useful tool for sellers as they can actually prove the history of the electric bike to potential buyers increasing interest and possibly even the price of their eBike.
Please Note: This service is to diagnose faults only, the fault can then be rectified by us on your request at extra charge.
eBike General Service – 125€
Standard Tune-Up + Diagnostic Check + Software Update + Drive unit casing removed, cleaned & checked + Battery Check (connections cleaned & greased) + Lock Mechanism check (cleaned & greased) + Full Report Printout supplied.
Other Bosch eBike Services
New bike build and setup for bikes bought online
Battery reset
Software updates
Service and repairs
Warranty
Batteries and chargers
Parts and Accessories
Advice and upgrades
Key replacement
Full diagnostic printout (including usage & service history)
Bosch Service and Software Requirements
Key
Battery min 10% charged
Diagnostic report example: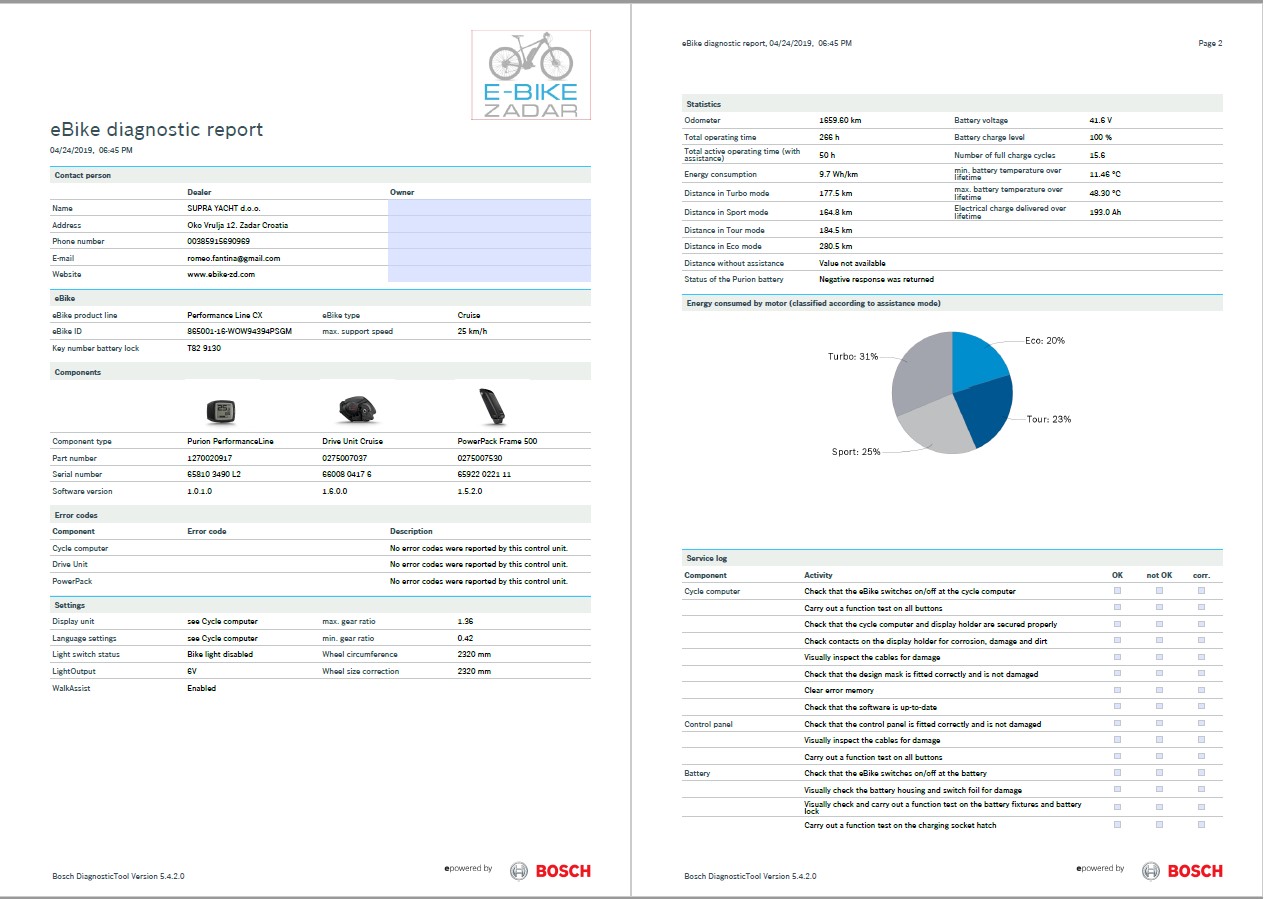 SERVIS FOR BIKESS IN RENT:
In case of a accident and bike malfunction, by calling the contact number, the response time will be as short as possible.
In the event of a bicycle failure, if there is a spare bicycle available, it be replaced or repaired onsite (replacement of wheels, chain, brake disc rotor, brake pads).

The cost of bicycle repair is paid by the lessor, if the damage is caused by the lessor. The cost includes the travel expenses to the point of failure, the time spent by the service technician and spare parts.
If the bike failure is not caused by the cyclist, the repair cost will not be charged